Sector 6, San Martino in Grania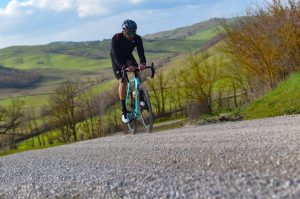 Length: 9.5 km
Elevation gain: 290 m
Features: constant rise and fall, and gradients over 12% at points
Our short journey on the gravel roads of Siena begins with San Martino in Grania,  another new feature on the route this year.
It falls right mid-course, between km 69.5 and km 78.8. For many, this will be a key turning point, a critical divide, both physically and, even more, psychologically. It is a very long gravel sector (9.5 km), with not a single flat metre. It comes immediately after two other challenging sectors, with just a short strip of tarmac in between, and before the dreaded Monte Sante Marie, the 'bête noire' of the race.
For all these reasons, whoever succeeds in leaving San Martino in Grania with (somewhat) fresh legs, and without going flat, will already be satisfied.
The finish in Piazza del Campo will be a further 60 kilometres away, but more than half of the route would be already behind, and this will make all the difference in the world from a psychological perspective.
Sector 7, Monte Sante Marie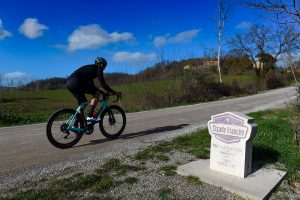 Length: 11.5 km
Elevation gain: 375 metres
Features: non-stop rise and fall, and gradients reaching 15% at points, also downhill
The second sector we're talking about with a famous and decisive sector for the Pro race that will first feature on the route of the amateur Gran Fondo this year. Looking at the profile, the first thing you'll notice is that Monte Sante Marie comes after nearly 88 kilometres of racing, when the legs have already done their fair share of hard work in the dust.
Next, you'll see that it comes just after the challenging San Martino in Grania sector. The two are only a few kilometres apart, and that short strip of tarmac will be a chance to recover a little, have something to eat and drink, and maybe draft for some time. Third, this is not only the longest sector (at 11.5 km), but also the one with the greatest elevation gain, nearly 400 metres. Rising and falling non-stop, this sector combines the effort of climbing and the technical difficulty (as well as the fun part) of descending.
Lastly, you'll realize that the finish is a further 43 kilometres away, with three more stretches of gravel roads to go. And yet, just as soon as you leave the most difficult, challenging, draining and exciting sector, Piazza del Campo will seem so close, if only for a while.
Sector 10, Le Tolfe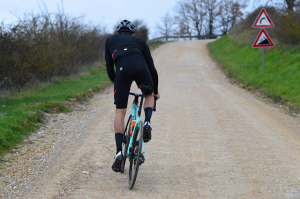 Length: 1.1 km
Elevation gain: 40 metres
Features: gradients up to 18%, both in the initial descent and in the final ascent
Le Tolfe is a miniature rollercoaster. The route first takes a nosedive on a narrow humpback road, turns left and kicks up to the top, although you never seem to reach the summit. At a little over 1,000 metres in length, this sector is the Strade Bianche in a nutshell: a combination of technique and strength, adrenaline and pain. By then, after 130 kilometres of racing, most of the Granfondo will be already behind.
Fatigue will kick in all of a sudden, and a few metres of the final ramp will feel like kilometres for weary legs. Hence, it would be advisable to stay in the saddle, and save your remaining energy (if any) for the final push to Via Santa Caterina, 12 kilometres away.
Or, conversely, you may go all out on Le Tolfe, where you will be timed, and get to brag with your family, friends and colleagues. One thing for sure is that Le Tolfe is the last gravel sector, the final 'white road' of the Granfondo Strade Bianche, and this, alone, is enough to make it a place of magic.