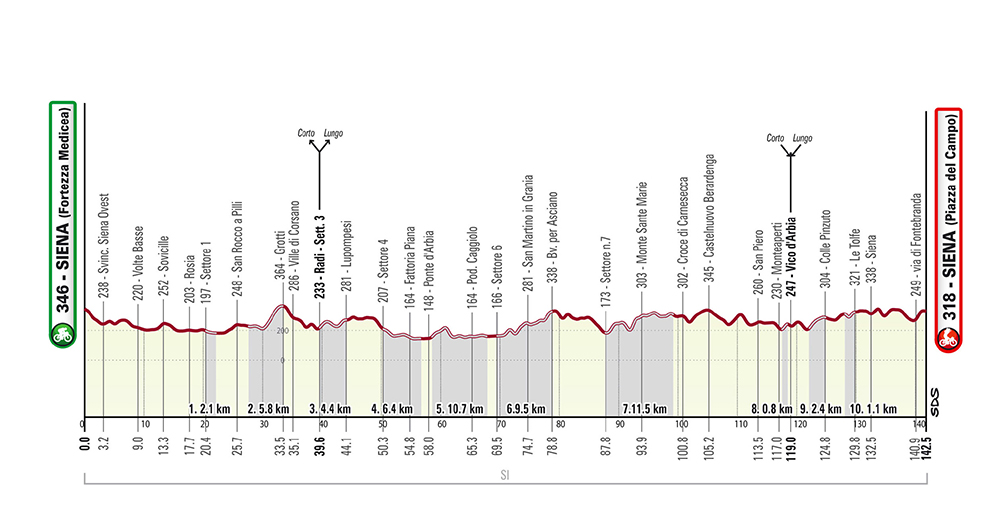 Scheduled for Sunday, 6 March, the Granfondo Strade Bianche will offer as many gravel sectors as ever this year.
The long route was amended and extended from 139 to 142 kilometres compared to the previous edition, with 10 gravel sectors instead of eight. Newly added to the course, sector 5, Serravalle, and sector 7, Monte Sante Marie – the one named after Fabian Cancellara, and which has always proved decisive in the Pro race – will offer all participants (over 6,000 this year) new landscapes and views.
These hard and lengthy sectors, at 10.7 and 11.5 km respectively, will add to the thrill of an extraordinary experience.
There will be over 22 kilometres more of white, gravel roads than in the previous year, totalling roughly 55 km, namely 38.5% of the route.
With less tarmac and more gravel, therefore, the route becomes technically more challenging to better reflect the essence and the soul of this race and of this territory.
What matters the most here is to ride together, surrounded by the wonderful scenery of the countryside of Siena, all the way to the incomparable finish in the stunning Piazza del Campo. That, unlike the rest, stays exactly the same.